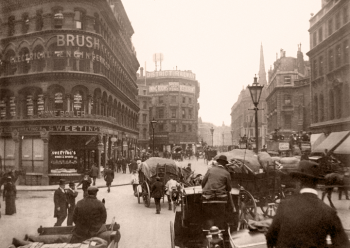 Mr Barfoot – owner
"I love Sweetings, which I bought from the wife of my very best friend, Graham Needham, who, unfortunately, after a very successful spell running it from 1979, died in 1993. His wife took over ownership and she sold it to me in 2000.  I am the fifth owner in its history and we are an institution in the City of London. We've gone through two World Wars and several financial upsets that life has thrown at us, but because of our reputation customers have stayed loyal to Sweetings."
Sweetings is probably the oldest fish and oyster restaurant in London.
The original Sweetings opened in 1830 as John S. Sweetings, Fish and Oyster Merchant, in Lad Lane, Islington.
Additional premises at 159 Cheapside and 17 Milk Street were opened several years later.
Theses "Very Superior Oyster Rooms" sold mainly lobsters, salmon, Dover soles and oysters.
At that time Sweetings also supplied top quality fish, game and venison to hotels, restaurants and country residences from their shop in Lad Lane.
The present premises at 39 Queen Victoria Street have now been occupied for more than 100 years.